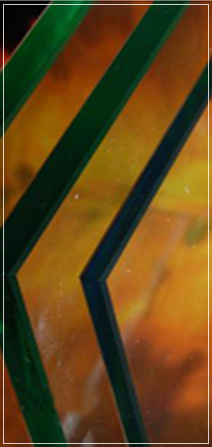 Secure residents and goods in safe is the important goal of fire-proof glass.
Its benefit lies in its capability of bringing a comprehensive solution
that combines multifunction versatility and the aesthetic appearances
of the building in recently years.

In the event of fire, Kelley's fire-proof glass offers an effective barrier against
the route of smoke, flames and toxic gases. With its transparent and fully intact, this glass allows residents to easily find their evacuation and rescues.

Approved by Korea government and certified by Fire-related material association, 8mm specially treated fire-resistant glass is available for our customers.
The glass will definitely provide 60 minutes fire protection with reasonable price.

Unlike the conventional fire-proof glass, this new fire-proof glass does not contain the wires in it, hence the users can see the objects through the glass.
This clear-type fire-proof glass is able to provide "clear-cut" so that the users can understand what is happening over the glass, which helps the efficient evacuation in case of fire.
This fire-proof glass can replace the wired fire-proof glass together with more than 6 times strength than the normal tempered glass.

Available size is up to 2,000 x 3,000mm but Custom-made sizes are also available upon customer's requests.

Please feel free to contact to Kelley Associates Contact for more details.