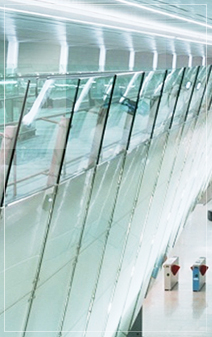 Laminated glass is a type of safety glass that holds broken glass together when shattered. The interlayer keeps the sheets of glass bonded even when broken, and its high strength prevents the glass from breaking up into large sharp pieces.

The PVB interlayer also gives the glass a much higher sound insulation rating, thanks to the damping effect, and also blocks 99% of transmitted UV light.

Many of Kelley's laminated glass products can be customized to meet your needs. From water-jet cutting capabilities to high-tech coating technologies, Kelley has been working with you to find total solutions for your most challenging projects.


Customer options are as follows
- Custom shapes
- Defrost & Defog
- Low E laminated glass
- Tempered laminated glass
- Tinted laminated glass
- Water Jet cutting

Product Offerings
Product Offerings

| | | | |
| --- | --- | --- | --- |
| Glass/Material | Thickness | Application | Size available |
| Clear Laminated | 2mm ~ 19mm | All types of glass available interior/exterior & shower booth | 2,438 x 3,700 mm |
| Colored Laminated | 4mm ~ 15mm | Interior/exterior shower booth, Doors | 2,438 x 3,700 mm |
| Bullet Proof Laminated | Depending on code | Safety protection Military purpose | Custom-made available |
| Custom-made Laminated | By customer | By specific purpose | Custom-made available |